Week #601
This week has many namesakes. Alloy 601 is a nickel alloy. Area code 601 was one of the original North American area codes assigned in 01947. Until 01997, it served the entire state of Mississippi. There is a surprisingly long list of Flight 601 crashes, 610 Nerthus is a minor planet orbiting the sun, the PowerPC 601 microprocessor and a Boeing 601 Satellite. 601 is also a prime number.
We started the week by sending season 1, episode 8 or our ⪮ Good Morning newsletter.
It has been a bunch of digital house cleaning moving from one laptop to another. For instance, on the old laptop we used the program Sketch a lot as an alternative to Illustrator. On this new machine, it has a different process, so we need to upgrade to compatible software – which is now a subscription service with a whole collaboration suite attached. Now we have a task to open all the .sketch files and save them as SVG files so what ever alternative we choose will still be able to open them!
Fool me once, shame on you. Fool me twice, shame on me.
We did this when we dropped Adobe Illustrator and tried to convert loads of (really old) freehand files and Illustrator files to SVG or PDF. Now, we're doing it again with Sketch. This one is on us!
We've spent some of this week working on more analytics tables. We're converting data in the production database, stored as JSON blobs, into a more flat analytics table for querying and dashboarding.
For our school surveys, we added Ukrainian as a language option. We now have 8 languages supported and all our tiny little flags representing languages were getting too long for small mobile screens. So we took the opportunity to drop the concept of "Flag equals Language" and moved to a nicer dropdown list of language names in their native language.
On Thursday, we were suppose to have a big presentation meeting, but that was postponed until next Tuesday.
Friday was a big milestone deadline on our Hyperion project. That finished off after several false starts and was sent off to the client to review. We're still far from done (or able to talk about it), but progress is happening and we can see the final deadline looming.
Week #602
602 Marianna is this week's interstellar namesake. Area Code 602 is a North American area code that covers most of the city of Phoenix, Arizona. The IBM 602 Calculating Punch was an electromechanical calculator introduced in 01946.
On Tuesday we were suppose to have a big presentation meeting, but it was postponed until the first week of September. Tuesday was also the start of the old Icelandic month of Tvímánuður. Translating as "Two Month" it tells you there are only 2 more months until the start of Winter. ❄️❄️
On Friday of Week #601, we got pitched internally an idea for a simple online tool to help Icelandic children learn to read (better). There is a lot of research about the proper way we should be learning phonetics before reading, but it seems many schools still use the other (discredited) way of learning which is to memorize the shapes of words and their sounds. This week we started to build a prototype to show to some PhD students and local experts to get feedback and help.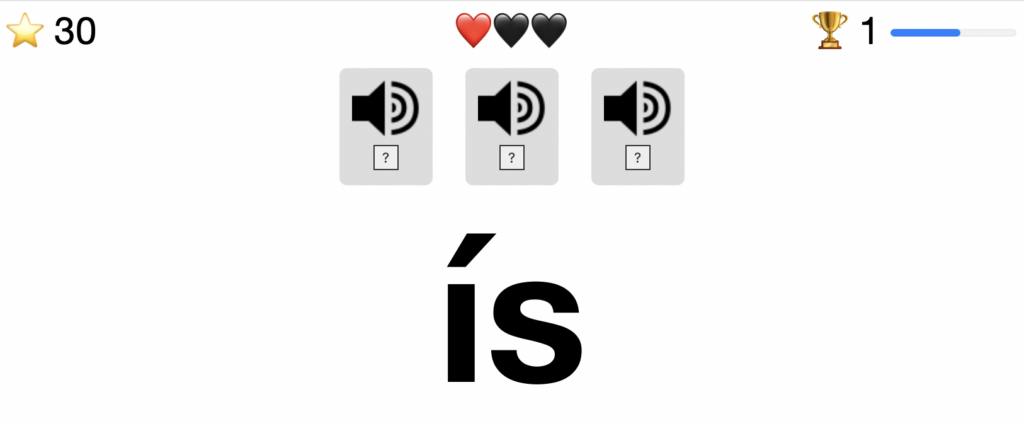 It is an online webpage using text-to-speach. We have a list of ~1500 words 6 year olds should be able to read from a local institution. We randomly choose a word and two distractors (1 correct answer and two incorrect). After 10 words, you increase a level and the words get 1 letter longer each time. We're looking forward to revisiting this again in 6 months and seeing how far it has come since this prototype!
One of our Australian concreter projects seems to have awoken from their slumber. We finished most of the stuff for a 02021 Christmas deadline. Now, they are asking to reset the database and we'll review all the little changes now that they plan on using it. We were previously paid when the project ended, now we'll pick-up a few more hours as it finally launches.
On Thursday night, we got an email from Heroku saying they are discontinuing the Free Dyno and Free Database tiers. We are a big user and payer of Heroku. We'll miss that free tier because it gave us the opportunity to just quickly create tests, demos and prototypes that might only last a few days or weeks. If things worked out, we'd need to increase to a paid tier for the project. Sadly, this is no longer an option. So we're exploring alternatives.
On Friday we found out the big presentation meeting planned for the first week of September is postponed until the 12th of 13th. /me sees a pattern emerging. 🤷🏻‍♂️
Fluxcapacitor
If we go all the way back to 02009, we wrote an article entitled: Maps with the road coloring problem. This digs into the mathematics of a minimal route-finding system, that is not necessarily the shortest path. If you are optimizing for instructions rather than distance, this is an alternative.
Ten years ago, in 02012, we explored Calendar Business Cards. It has been a few years since we printed a pack. They used to be a staple give-a-way at workshops. Sometimes it is hard to get people to take your contact info, but with these, people rushed the stage to get one!
This week in 02013 was Week #132. It seems we were busy with lots of little projects.
Bric-à-brac