This is a double weeknote. For a big chunk of these 14 days we were pretty unproductive due to sick days. Three major projects were coming to a head and hopefully, the next few weeks we'll condense down to just one. Which (hopefully) we go from crazy deadlines to just operational work.
Week #630
Our Staff Survey is in full-swing, we sent emails, SMSes and the response rate is going well. We'll continue to send emails and robocalls next week and close this survey by the end of the month.
We met-up with our new accountants and they are much more comfortable with working in our web-based accounting software. We upgraded our subscription package and with a bit of training, we'll manage much more of our own annual reports accounting.
The last round of changes with our 🇦🇺 Australian concreters. They are always finding small tweaks, errors or changes with the system. This is our last round, the project was suppose to launch in December 02021, but they took a year to finalize some company merger, so it is only in 02023 that we've started testing and reviewing. Both parties have forgotten a lot of little things and why we choose to implement it the way we did. All that is ironed out and we're declaring this done.
The Hyperion project continues to inch towards the deadline. 80% of the work seems to get done in the last 20% of the time. We're all in crunch and reaction mode, but at the same time, adding all the little tweaks, polish, finishing touches and bug fixes has made a massive difference.
Week #631
This week shares its name with the Latécoère 631, a French flying boat. It was too expensive to operate and maintain, but the idea and design both feels like something from the past and future.
Hyperion continues to march on. The project should soon have a proper name and we turn it over to the customer who should allow us to talk about it in a month or two. We're very excited, but it is also only the start of the journey.
In April, after Easter, we'll be conducting a survey on behalf of the City of Reykjavik to the parents of kindergarteners. This week, we started the process of setting-up the servers, updating the questions, etc. for them to review.
We had a meeting with the our Australian counterparts to go through the Concreter's tool one last time. We reviewed the functionality, recorded some screen captures and (for now) are calling this done.
This week we also sent out our monthly newsletter ⪮ Good Morning: s02e03. Since 🚫🐍 St Patrick's Day is right around the corner, this one was mostly about luck and snakes.
Fluxcapacitor
Back in 02015, we wrote about Schelling Points. These are landmarks to which different groups would naturally assume the others would think of too. It is a bit of game theory wrapped-up with geolocation.
In 02014, we re-published an extinct article from the Dopplr blog called In Rainbows. Which described their algorithm for converting a string to a color.
We went back through some old photos from 10+ years ago. This week 11 years ago we were in Santa Monica working on a secrete project. The week before, we were at Harvard University for the launch of Lady Gaga's foundation, hosted by Oprah.
Bric-à-brac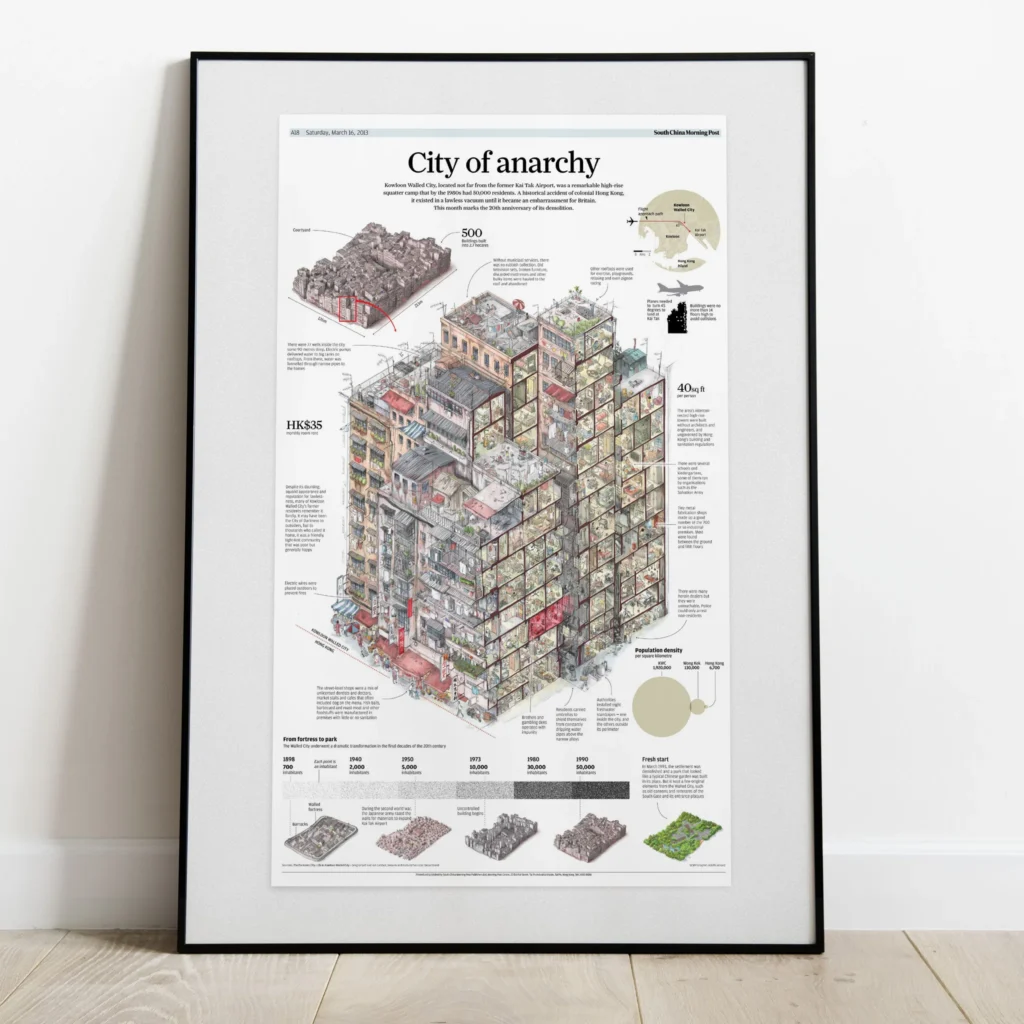 Kowloon Walled City was a crazy, unmarshalled enclave in Hong Kong. Its history is incredible. We also have the coffee table book, City of Darkness: Life In Kowloon Walled City which photographs much of the inside of this city in a city.
It is also interesting to see how a printed newspaper is finding alternative ways of generating revenue from content they have already created. From conferences, events, speaker dinners and now limited edition prints, "traditional" journalism is finding ways to adapt, and we should support them.