Our last week note was from Weeks 543 & 544. Since then we closed the office for some much needed holiday travel. This year was spent in Iceland, travelling up north and enjoying seeing some of the countryside.
This week shares its name with a lot of transport vehicles from the Porsche 550, Ferrari 550, Kawasaki Jet Ski JS550 to the Gulfstream G550. 550 Senta is this week's asteroid namesake. 550 is also an SMTP and FTP error code for "The requested action was not taken". But most interestingly, it is thought in the year 550, Hindu mathematicians gave zero a numeral representation in a positional notation system!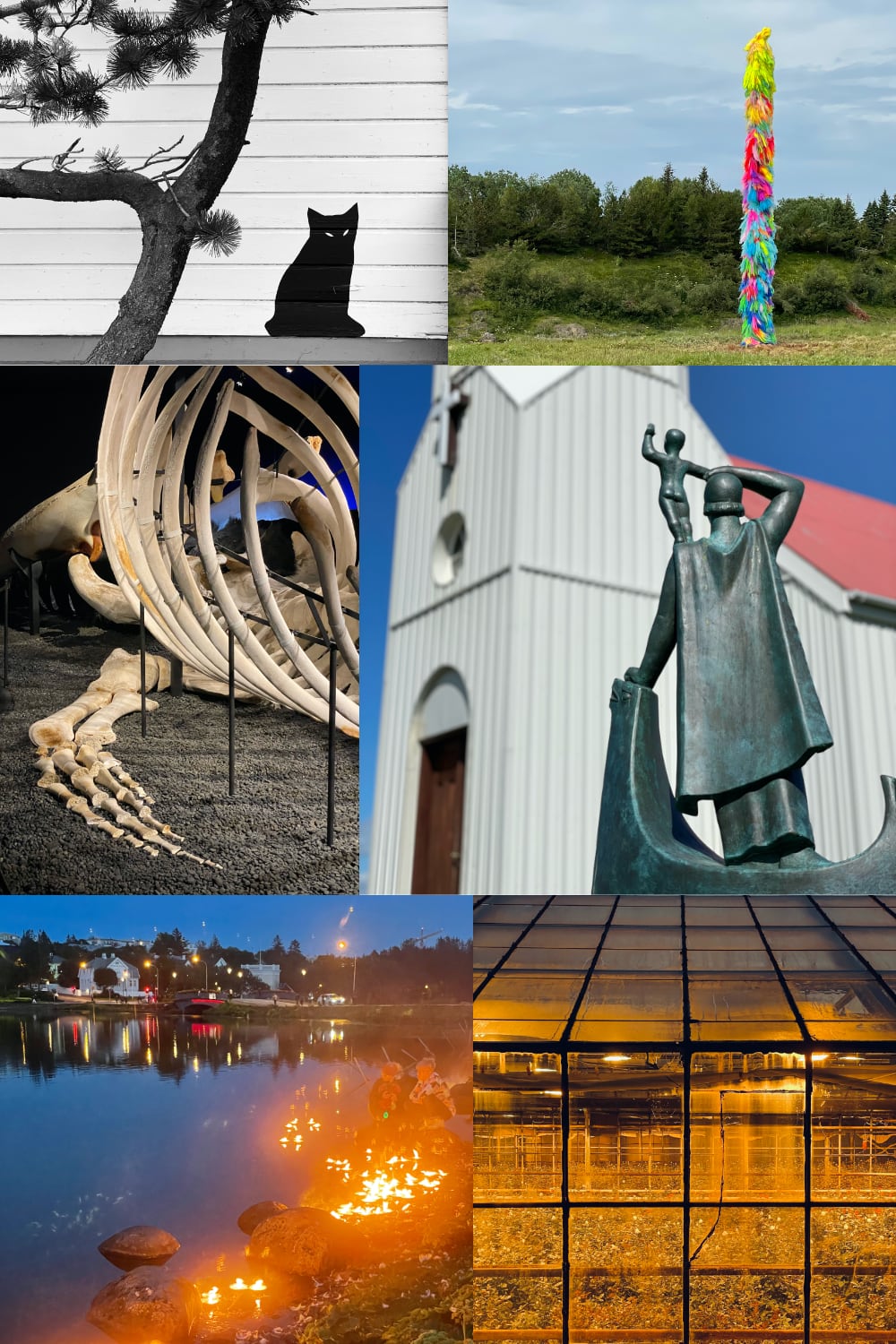 Week #550 was our first full week back, and we hit the ground running!
Our hosting provider was purchased a year ago and we were told they would migrate everything over to the new owners. Well, last week, we got an email that said they tried and it wasn't working, people weren't happy and they were just abandoning the effort. They gave a few weeks notice and basically said, you're on your own. That meant moving files, databases, SSL Certificates and DNS over to a new company and waiting around this week for it to resolve and fix errors.
It is also the start of the school year. That means we setup all our long running surveys again. Before we get all the student lists, we took the opportunity to update the code, the database and a message text. We've got the flow down pretty well, so even though this took some time, all the changes continue to improve the system.
Our top secret project continues to improve. The first mention of this was from week #488, 62 weeks ago. Even then we said it should launch any week! It continues to feel like it is closer and "the right time" to get this out the door and get feedback. Once that's public we can talk more about it. We have strong opinions about the good, the bad and the potential for this technology, so having it public will allow us to start those discussions.
We also have two project in Australia. Our summertime is their wintertime, so they aren't on holiday like we are. We continue with a new concreters project, connecting their information in xero with a webform to help manage projects. We got a small addition to our previous plumber project to help generate customized P&L reports to quickly check on projects that might be losing money!
Laser Cutting
We mentioned in week #524 about some hand-painted numbers we found at the local swimming pool. We took the photos of the numbers and vectorized them and put them up online. Since then, we laser cut them as well. The idea was to work on a clock face using Icelandic material for the numbers using numbers from something quintessentially Icelandic, the swimming pool. We improvised a few extra characters like an X, V and I for some roman numeral mixing. There is a whole article that needs to be written about this whole process and the pending clock face designs.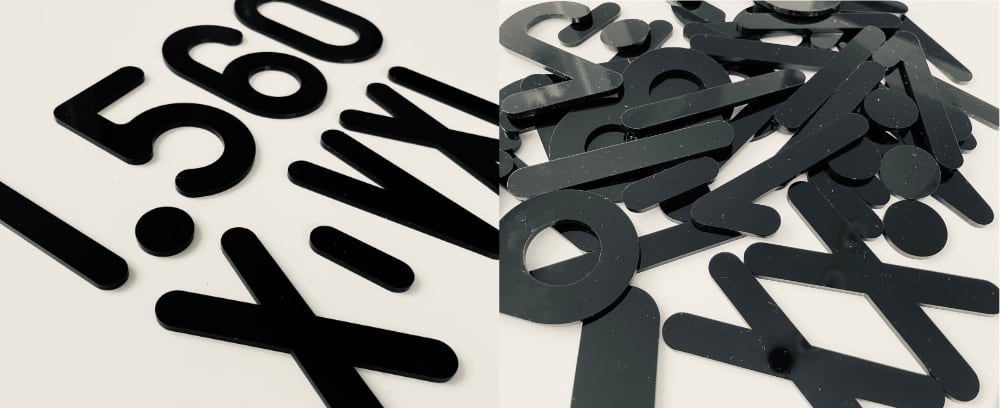 While we were at it, we also laser cut some Golden Ratio rulers. This is a design we've been sitting on for years! We had contacted a screen printing company about making some, but in large batches the trimming tolerances couldn't be guaranteed and since this triangle's tolerances are tight, it never got made. In small, laser cut batches we can control things much better, so we made a few as a test.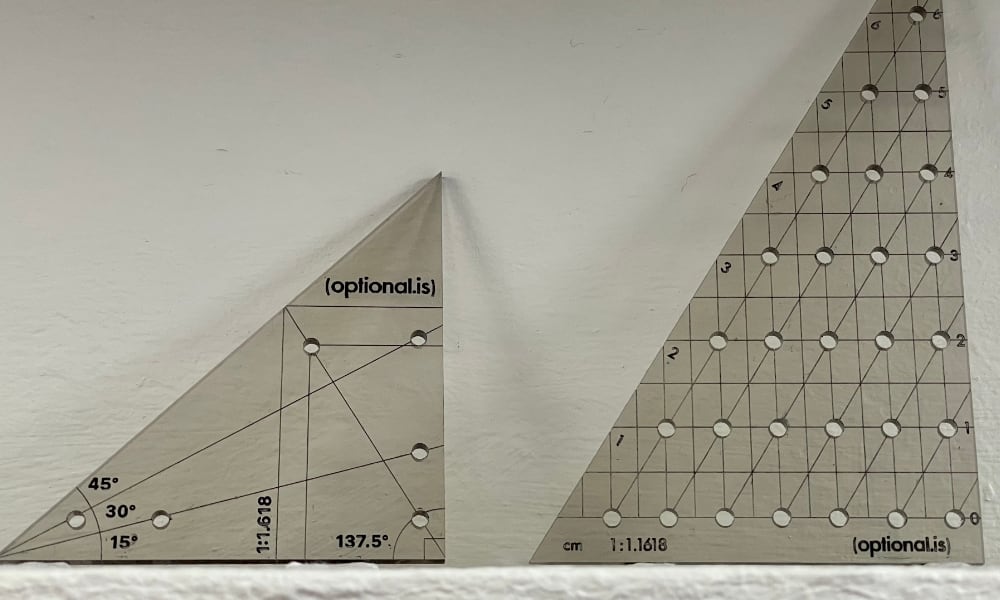 They work great with pens on paper, but also with a stylus on a tablet. This is our first attempt at getting to know analog tools for digital art. Again, there is a full article about this to be written soon. Then we're happy to post the vector files so you can get your own laser cut.
Meetings
Now that everyone is coming back to the office after their summer holidays, we can start to book meetings with folks again. The threat of COVID is ever-present, so even though something goes in the calendar, it is never a sure thing! We've got a few meetings lined-up now with colleagues to catch-up on what they've been up to these last 18 months and with a vendor for a potential project!
We're still holding open office hours on Mondays and Fridays. You can book a time for a virtual chat when ever it suits you.
Company
We continue to transition from the SLF (Unlimited Liability) to the EHF (Limited Liability). This week, we've moved the insurance over. As were now solely trading under the new company, it's good to get all that protected.
At the moment, we have one unpaid invoice less than 30 days old and two in the queue for next week to be sent.
We're back on the weeknotes horse and will continue our regularly schedule program.