Today, Friday 7-Feb-02020 is (optional.is)'s 9th birthday. 🎂
This is week share's its name with the Dallas, Texas phone area code prefix. It is also the name of 469 Argentina, a main belt asteroid classed as a minor planet. It is roughly 1/7th the diameter of our moon.
It has been another busy week. We've been stepping-up our work prepping for Material Conference. That's about 6 weeks away and now we're in full-gear locally promoting the event.
We did a bunch of work on the Top Secret project. Cleaning-up some iOS code, HTML styles and setting-up some email services.
The week was mostly dominated by survey work. As much as we plan ahead, something always comes-up when dealing with customers who are both busy, confused and under deadlines. Our system does its best to detect bad or ill-formed data on import, but sometimes the data fits the pattern, but is still just wrong. So this week we've been wrangling and putting out fires. This is happening in parallel to people taking the surveys. We sent out an email on Monday to all the participants with information on how to login and complete the survey. Then on Wednesday, we sent out SMS reminder messages. This is a good combination because people might not check email that often or the message went into spam. The SMS is a good reminder (or maybe first reminder) if they haven't completed the survey.
This week we also received a small project with a quick turn around from Prevent Epidemics. It was a great little project to get a map of the coronavirus spread and as much information compiled into one place. The map isn't live yet, still finishing-up a few things on the staging server, but it is looking good.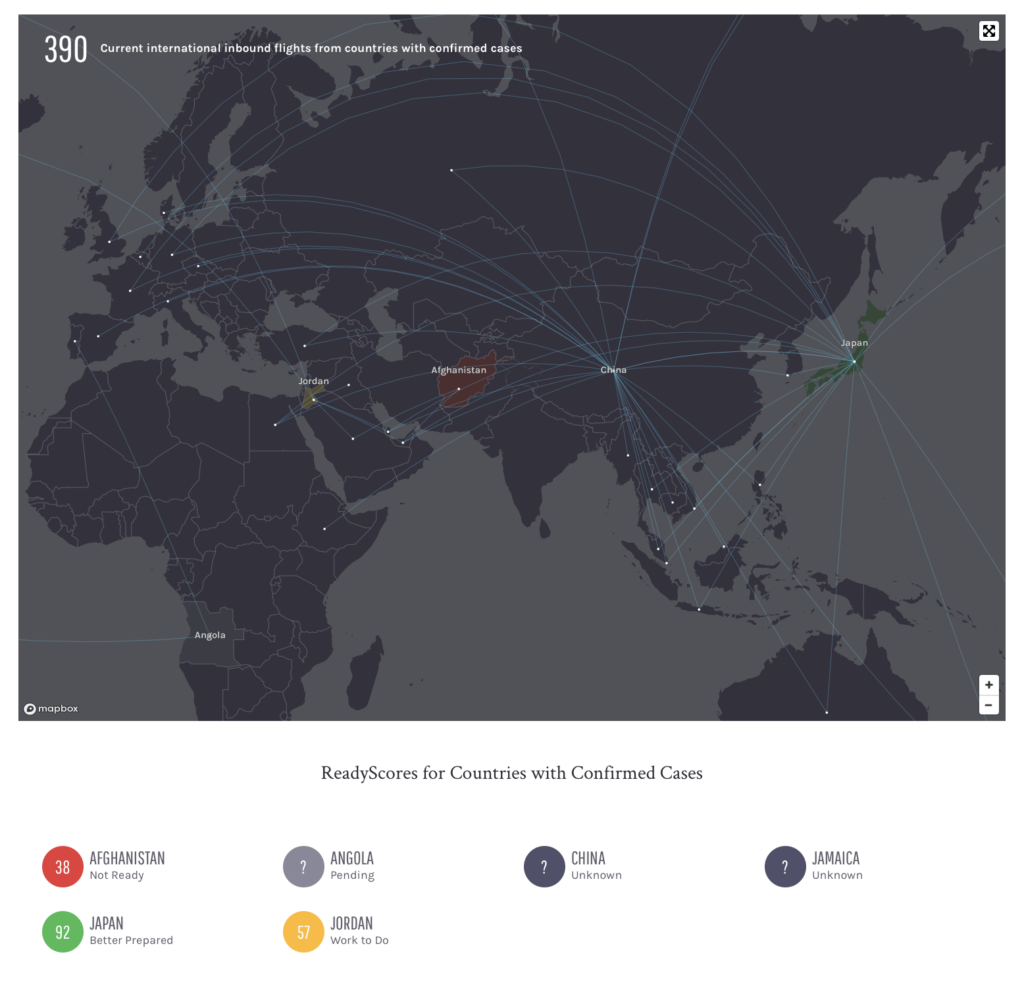 This was also a great opportunity to work again with Jon Hicks. Awhile ago, we setup oxvik.com to act as a way for us to partner-up and compliment our skillsets. The last big client project we did as Oxvik was a few months before Week #316. You can see the fruits of our labours as two posters in the headquarters of Marel in Reykjavik, Iceland. They are posters of future 02035 products.
Au Travail
We've sent out one invoice this week, which hasn't been paid, but that's not unexpected. We've also just about wrapped-up one of our number crunching, chart generating projects for O'Reilly. Just needs one more round of review to finalise anything missing. Another data set also landed this week from them, so as one ends, a new one begins.
Every Wednesday, we spend half-a-day working on site. Mostly been exploring some data collection and analysis. It is a start-up, with a runway of cash. This week they made some cuts and shuffled some staff around. Our time there hasn't come to an end, yet, but as with all new companies, sometimes it works and sometimes it doesn't. Either way, we're all learning, building relationships and there will be plenty of work in the future.
Bric-à-brac
This is an amazing video of how to put a round disc into a square hole. But the hole is smaller than the diameter of the circle. The best part is the 3-dimentional thinking. After reading Edwin Abbott's Flatland many years ago, you start to see the world differently and can begin to wrap your head around 4D space.
Differences in perceived speed 2 pic.twitter.com/IfRvCB1nG0

— Akiyoshi Kitaoka (@AkiyoshiKitaoka) February 4, 2020
Finally, we'll leave you with this short video of lens perspective distortion.
As the camera lens is changed, there is a compression in the scene and distance, so the perceived speed changes, when in fact it doesn't. This is also the phenomenon if not having any markers to judge your speed. On a straight, flat surface to tend to go faster than you think you are since you have no relative markers. Hence tree-lined streets to change some of that perception and slow you down.