What a week to get back to work! The first few days of week #517, were spent glued to the TV watching the developments happening in Washington DC. By the end of week #518, many of the terrorists were rounded-up and President Trump was impeached a second time. There is still a lot more to be done, but what a fortnight!
Week #517
Starting in 02021, all post to the USA needs to now be a registered letter. That's anything more than just a letter. Periodically, we send out our analog.is notebooks to folks. The shipping has now tripled in price. We've adjusted the online store fees, but what it means is that it ends all small orders! It costs twice as much for shipping than the cost of the product. There are pros and cons, we won't be spending time going to the post-office for tiny amounts of money, but there is a long tail in small orders. We hardly get any bulk orders. When we have time, we'll figure out what todo about all the inventory we have and how to use it up.
We spent some time onsite this week with a customer to look into some of their subscription numbers. Recently, their app started to offer weekly subscriptions to replace a one-time IAP (In App Purchase). It has been a few weeks now, so we spent some time analysing the progress and created a few charts for their presentations.
We've gotten some interesting external help with a new VR idea. It seems to be working and each time we iterate, we can see an amazing improvement in the headsets. It really makes pushes what you can do in 3D and what you can fake without anyone noticing.
Week #518
We started this week out giving a virtual presentation about Career Choices as part of the Stay Curious series.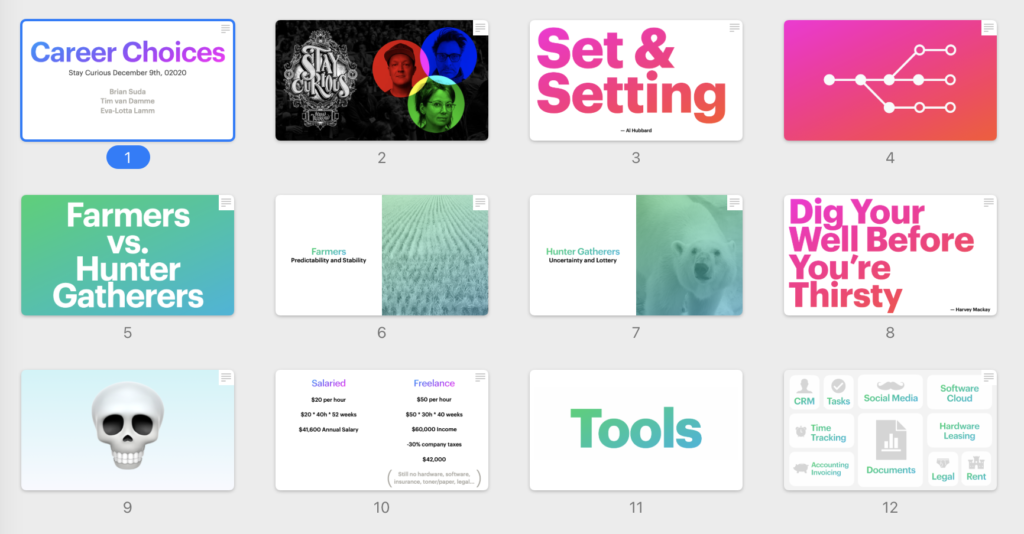 We were joined by Tim van Damm and Eva-Lotta Lamm. There were lots of great questions and discussions. We really enjoyed talking to like minded people and getting back out there and speaking again.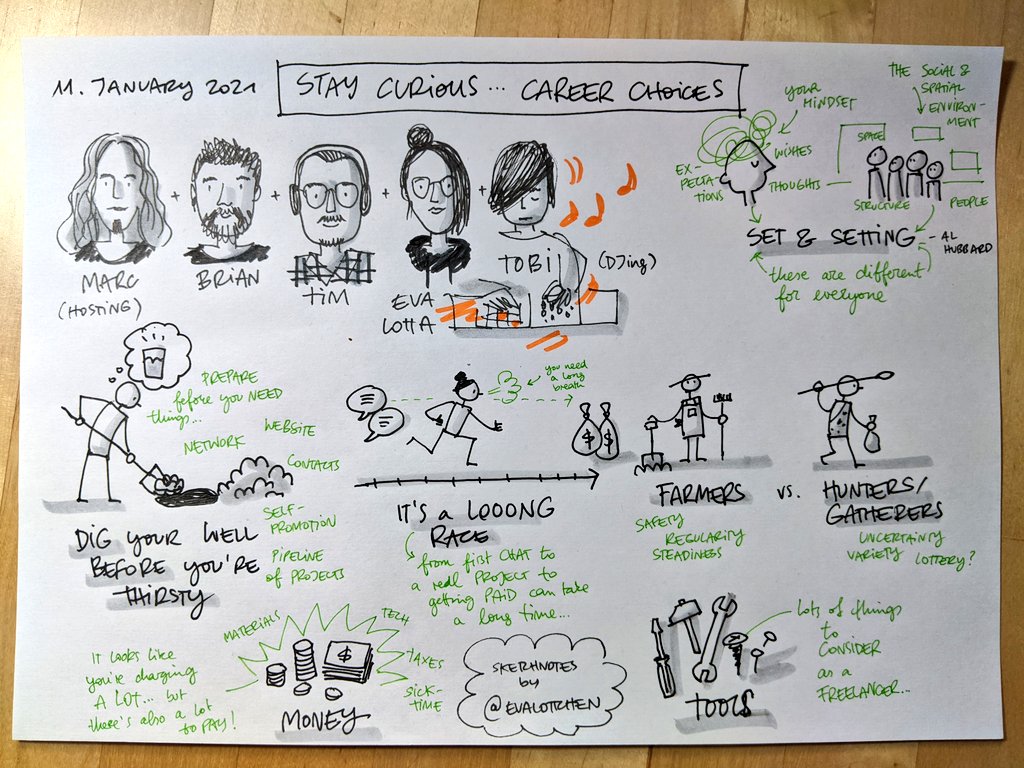 These events are not recorded, so if you missed it, you missed it. You can always contact us if you have any questions about your job, work, life-choices or advice and we'll see what we can do.
We continued onsite this week looking into subscription revenue and the onboarding funnel. We tend to not do much with the implementation, we analysis the event data, look for strange anomalies and make recommendations for the team to investigate further and fix. Then we repeat to make sure things are improving.
We have one client who does/did heath check-ups. They would visit companies with a nurse to take some basic measurements and have people complete a life-style survey. They also conduct these interviews and tests outside stores, in shopping malls and places where people gather. 02020 was a difficult year for them. This week, we started a new data collection method. Via the government SSO (Single Sign On) Service, island.is, participants can now self-assess and answer the majority of the questions. We re-used the majority of the code in the previous survey, but adapted it to the new login method.
Our Australian plumbers have launched the new time tracking tool we built for them. There were a few bugs, but nothing major. Most of the changes were around the workflows. Who's suppose to get what email notifications regarding who hasn't completed their hours and reports emails about project status and time left. Their payroll runs late our Wednesday nights. In week #519, we'll see if we've managed to iron out all the hiccups.
Finally, we spent some time this week getting organised again with our publishing schedule. As part of the backlog of articles, we needed to reach out to a few people and finish-up a few things from 2+ years ago. How things seem to have flown by!
Invoices
We currently have two outstanding invoices from December. We sent them out last week, so they are not exceptionally late, but always worth keeping tabs on. Now that the Australian Plumber project is finished, we can invoice the second-half of that bill this week too.