Wow, we fell off the horse with our Weeknotes. Here is an eighteen week catch-up!
Week 268
This was the final week for our big Data Vizualization Project for the O'Reilly Strata conference in San Jose. We worked with some folks at AltSpaceVR to develop three data vizualizations that would work in their enviornment to show-off what it might be like to see things in a 3D virtual reality world. There were lots of pros and cons, but it was an excellent test-bed to get feedback and people's reactions.
This week we picked-up a few personal tracking devices. They are mostly fancy pedometers that sync with a smart phone. When tracking steps, they can estimate distance and calorie burn and also sleep or lack of. We were enjoying one device when the watch hands just stopped working. After reporting it to the manufacturer it was promptly replaced, except we had to use an address in the USA and it is how slowly making its way back to us in Iceland. Having not worn a watch in many years it felt strange at first, but really nice after awhile.
Week 269
This week saw the closure of Five Simple Steps. They were the publisher of our books about Designing with Data and Creating Symbol fonts. The ending of an era is always a sad event, but the orphaned authors have put together a new site: Future Simple Steps with links to all the authors' eBooks. This week also promoted some discussions with other publishers about some of these works and how it might fit into their catelog. It was a busy week overall just picking-up all these loose ends.
We are also incubating a completely different type of company inside (optional.is) right now. This eventually will be spun off. Currently we are supporting them through the using of our resources and hardware. It is only at the prototype phase, but we are seeing some progress and the feedback has been good. Moving to a larger scale production and making it cost effective is were we are right now. Figuring out all the numbers and choosing the right business model.
Week 270
Work-wise, we're focusing on narrowing some of our projects for the next six months or so. We want to focus on two of our iOS apps, Dashbones and another codename: Moriana. Along with a few other ideas which we'll be pitching and hopefully picking-up around data visualizations. We've also been thinking about a second edition of "Designing With Data", but never got around too it. Now is a good time to see if it is a viable idea or not. We have the material and can make the time, but is it a worthwhile investment?
Week 271
This week saw the official First Day of Summer in Iceland. This is the start of the six month summer season. While the weather isn't exactly cooperating yet, you can certainly feel that change is in the air. Not much has happened work-wise this week. It was a short week due to the public holiday and general good weather. It has mostly been prepping here and there for the London Strata conference at the start of June.
This week we also sent out our Quarterly Newsletter. If you are not on the list, you should sign-up. We've really been doing our best to make it less about us, and more about things we think you'd find interesting. For instance, a color guide to how ripe bananas should be for optimal selling or data visualization art. It is a low volume email, so if you don't want to miss any links, sign-up today.
This week also saw the passing of Prince. His influence on music and culture can not be debated. This little nugget pass through our stream: It is a 3 inch floppy disk of a custom font with his glyph when he was known as the artist formally known as Prince.
Week 272
After a long run with one of our close clients, we parted ways. For over  a year we had worked closely together doing data tracking and analysis, but due to lack of budget, half the company was scaled back, including the data team. We learnt a lot, had some fun, and will move forward with some new and interesting freelance projects after the summer.
Week 273
We have started experimenting with our next iOS app. This is based on an offline web-app we made to track days off in Iceland. It is simply a countdown calendar for your next public holiday. We're expanding it a bit and tweaking it to work in places that a web browser is currently not welcome. It was also May Day on the 1st, so we've run into several public holidays and the summer-time slump.
Week 274-281
Not much really, a few meetings with potential clients. Going through back emails, generally trying to get organised while most of Iceland is on vacation. It wasn't a very productive time with on any of our public facing projects, but we did manage to get a lot of internal work done on a few new ideas and projects.
One thing we've been toying with a lot recently are this Icelandic Basalt Columns. They are pretty iconic and appear near volcanic eruption sites. We've been using those shapes in some product ideas. Using some code, we randomly generate some pleasing patterns which we can then use as assembly instructions.
One prototype was to create some of these pieces out of various thicknesses of felt to test the sound dampening abilities. If the results are good, we can better refine the materials and cutting process. That will get us to a price to see if this is even a viable product.
In the meantime, we've again reused the patterns to turn some of our windows into more privacy glass. Using the Reykjavik fab lab, we cut some vinyl sticker sheets to fit the windows using our basalt column patterns.
Another internal project we started was to re-create vector shapes of the old Icelandic letters when they were part of a carved pattern.
We are still cleaning them up, with the intention of turning them into a font that anyone can use. All the files are in GitHub if you would find them useful.
Week 282-283
This week saw the public release of our second iOS app, Red Days. This is a simple app that counts down until the next public holiday. It works on iOS, in Notification Center and on the Apple Watch. We're quite pleased with the progress we're making and what we've learnt, the problems we've faced and the roadblocks to doing even more interesting things. The whole project is in Apple's new programming language Swift. That's mostly what we've been doing these last several weeks, is dabbling in Swift when we've had the time.
In this time we also built a simple prototype for a company down in Australia. They are doing all their time track for site installations on paper and it has been a nightmare to compile it all into excel. Our prototype was only the second part, after a spreadsheet was created, we did all the pivots online in a website to further explore the data. The prototype was then present to them with a pitch for the first half. They now need a way for cleaner, smoother data entry. Be it some registration marks on the paper with OCR to try and grab the information from the paper or move to a digital solution where all time is entered via a website. This is now in their hands to explore and decide.
Week 284
This is the week we would have had the Material conference. It is sad that we didn't make our funding goal, but we learnt a lot and are planning a 02017 version. Over the next few weeks we'll be able to talk more about some of our new ideas. It will all be posted to the Material.is website.
Week 285
This is a chaotic week for Iceland. At the end of this week, is a long weekend for Verslunarmannahelgi. This is the last holiday until christmas for Icelanders and they really like to celebrate – even to excess.
We did manage to squeeze in a meeting with some friends about a crazy idea they have. Our role is to give our experience to the project along with our knowledge, but to also build a quick and dirty simple Minimum Viable Product. Something they can use, play with, and get real feedback rather than "wouldn't it be nice if…" types of comments. This week we did that and sent it off for them to play with. No word back yet, but we've been having fun with the app.
Week 286
This week we started in on yet another iOS app. This is a really simple mood tracker. Each day you doodle a smilie face, select a color and it is saved. Over time, we'll try to tease out some metrics, but right now it is just a few beta testers sending in some valuable feedback as they are using it.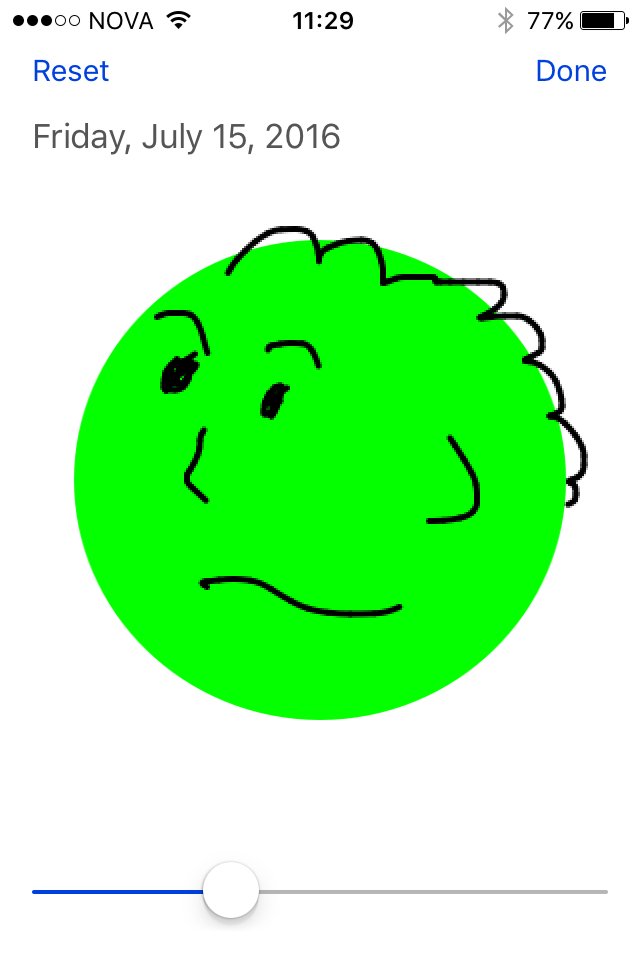 This week we also settled-up all our outstanding invoices. We are in a good spot to better understand the company's financial situation and plan accordingly for the rest of the year. This helps us figure out how much work we need to take on versus how much can we afford to explore products which might make us more money down the road.