Hello, this is the (optional.is) quarterly newsletter. Mostly the thoughts of Brian Suda.
02022Q3 REYKJAVIK: A busy Q2 has put us in a good place to take some much deserved time off. We're closing shop for July and will be back in August for more fun and adventures.
02022: Today I Learned
Periodically, we see TIL (Today I Learned) posts with some interesting fun facts. Starting six months ago, on Jan 1st, we saved interesting and important headlines for each day. We'd browse a handleful of news sites throughout the day and if we thought the headline would be of interest at the end of the year, we'd add it to the daily list. The original idea was to be able to create an end-of-year wrap-up with maybe 12 This Month I Learned, or 52 This Week I Learned bullet points.

We have over 180 days' worth of headlines so far and on many days, there are several. We're not exactly sure what we'll do with this at the end of a full year's worth of headlines. Things that seem important on the day are less important when you zoom out a full year.

No matter what, we'll keep collecting headlines from a variety of different news sources and we encourage you to do the same. Then, in six months, we'll see what we can do with the data.
Project Updates

Iceland accepts 🇺🇦 Ukrainian refugees. As part of that effort, we are translating our student survey into 🇺🇦 Ukrainian. That will bring us up to 8 languages. It is important to let everyone contribute to their growth and well-being as much as possible.

Project Hyperion continues to develop. We have monthly milestones and deliverables. Things are on track for an early 02023 launch. As it gets closer, we can say more.

The web-based spin-off WwB is also going well. A small team of people are testing it. We're always finding small bugs, but that's the point. We're pushing the limits of what's possible with HTML input forms and the DOM. For performance reasons, we're going to need to change the structure soon.

We always have a few VR projects on the back burner. We're not directly involved in the VR app development, but support the software via web-based APIs, backend software and utilities.
Links Newsletter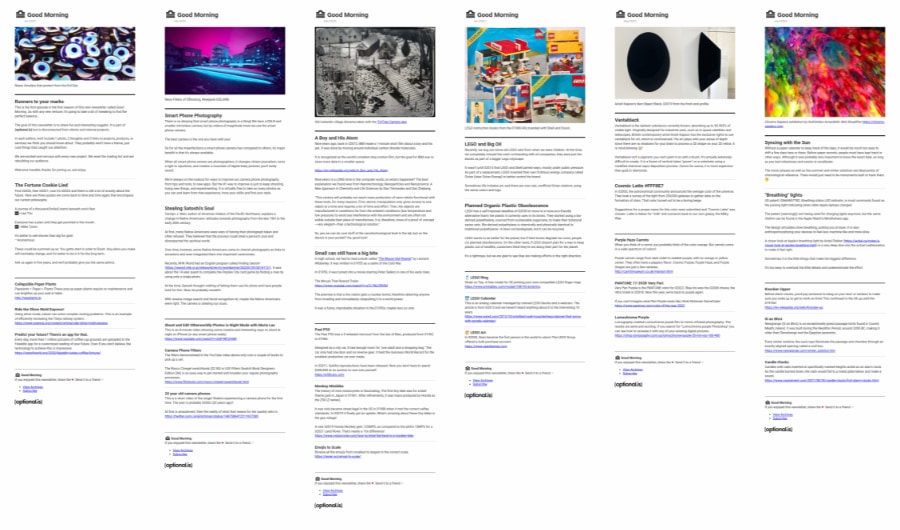 We're slowly migrating this newsletter to be interesting, internal, company news. That might not be your thing.

On the other end of the spectrum, we started another newsletter ⪮ Good Morning. There is no self-promotion or company news, just interesting links delivered monthly.

Obviously, we want you to stick around here and subscribe to both. If you really want to impress your friends and colleagues with interesting news and links, be sure you subscribe to ⪮ Good Morning.

Subscribe: https://optional.is/newsletter/subscribe/
Merch
😀📅 Emoji Calendar. This is a free app to countdown to the next holiday with simple two glyph emojis. Available for iOS and Apple Watch.
⪮

Good Morning

We've started a second newsletter. Monthly episodes, 1 Picture, 2 Thoughts and 3 Links.

💌 Subscribe Now